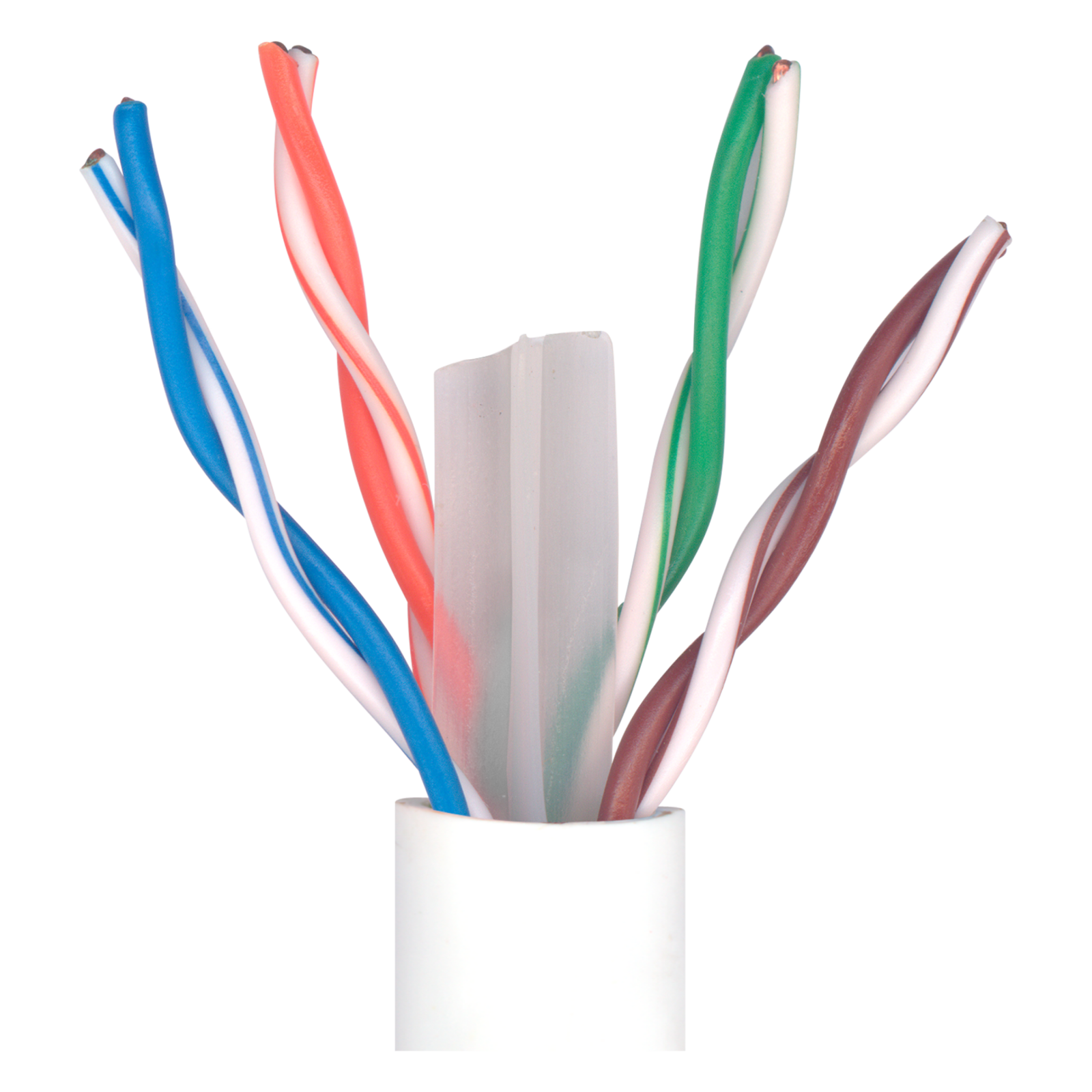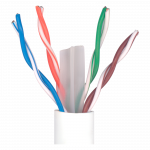 Data cable U/UTP CAT6 Eca PVC
Category-6 and Eca Euroclass data cable, U/UTP type (Unfoiled), with copper conductor and PVC sheath, white colour (RAL 9010).
Supplied in a 305m dispenser box.
Description
Specifications
Reviews (0)
Description
Highlights
U/UTP Unfoiled UTP Cable
Solid copper inner conductor (23AWG)
Main features
PE (Polyethylene) copper conductor insulation, 0.95mm thick
PVC (polyvinyl chloride) outer sheath, 0.50mm thick and 6.2mm diameter
72% nominal speed
Discover
Data cable category CAT6 complies with the standard for Gigabit Ethernet and it is backwards compatible, with the standards of the inferior categories (CAT5/5e and CAT3). Category 6 evolves over category 5E, allowing to achieve transmission frequencies of up to 250 MHz (in each pair) and 1 Gbps of throughput. It includes characteristics and specifications to avoid crosstalk and noise. This type of data cable can be used in 10BASE-T, 100BASE-T and 1000BASE-T (Gigabit Ethernet) compliant systems.
They are characterized for:
Comply with TIA/EIA-568B.2-1
Crucifix type padding
Transfer rate up to 1Gbps
Frequency range of up to 250MHz
Includes rip cord to make it easier to strip the cable
Nominal impedance of 100 ohms
Maximum resistance per conductor below 117 ohms/Km
Type
U/UTP
EuroClass
Eca
Class
CAT6
Conductor
Material
Solid copper
Ø (mm)
0,55 ± 0,02
Conductor type
AWG
23
Conductor isolation
Material
Polyehtylene
Ø (mm)
0,95
Filler
"Crucifix"
No
Outer sheath
Material
Polyvinyl chloride (PVC)
Ø (mm)
6,2 ± 0,2
Thickness (mm)
0,50 ± 0,05
Color
White
Rip cord
Yes
Reaction to fire
CPR
Eca
Nominal impedance
Ω
100 ± 15
Max. conductor resistance
Ω/Km
< 117
Nominal velocity
%
72
Working voltage
V
300
FREQUENCY
ATTENUATION
NEXT
PS-NEXT
ELFEXT
PS-ELFEXT
RETURN LOSS
(MHz)
(dB/100m)
0,772
1,8
76
74
70
67
-
1
2
74,3
72,3
67,8
64,8
20
8
5,4
60,8
58,8
49,7
46,7
24,5
10
6
59,3
57,3
47,8
44,8
25
16
7,6
56,3
54,3
43,7
40,7
25
20
8,5
54,8
52,8
41,7
38,7
25
25
9,6
53,3
51,3
39,8
36,8
24,3
31,25
10,7
51,9
49,9
37,9
34,9
23,6
62,5
15,5
47,4
45,4
31,8
28,8
21,5
100
19,9
44,3
42,3
27,8
24,8
20,1
125
22,4
42,8
40,8
25,9
22,9
19,4
200
29,2
39,8
37,8
21,7
18,7
18
250
33
38,3
36,3
19,8
16,8
17,3