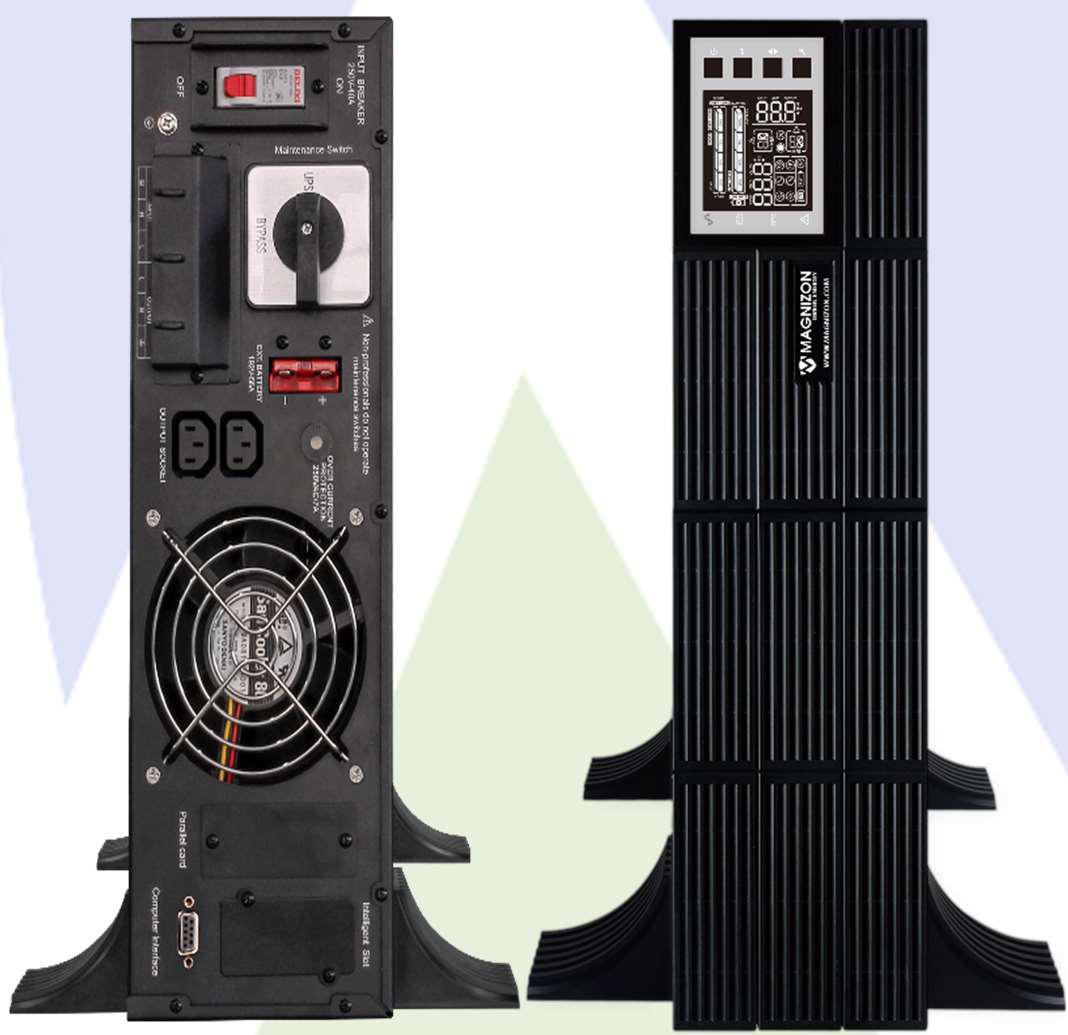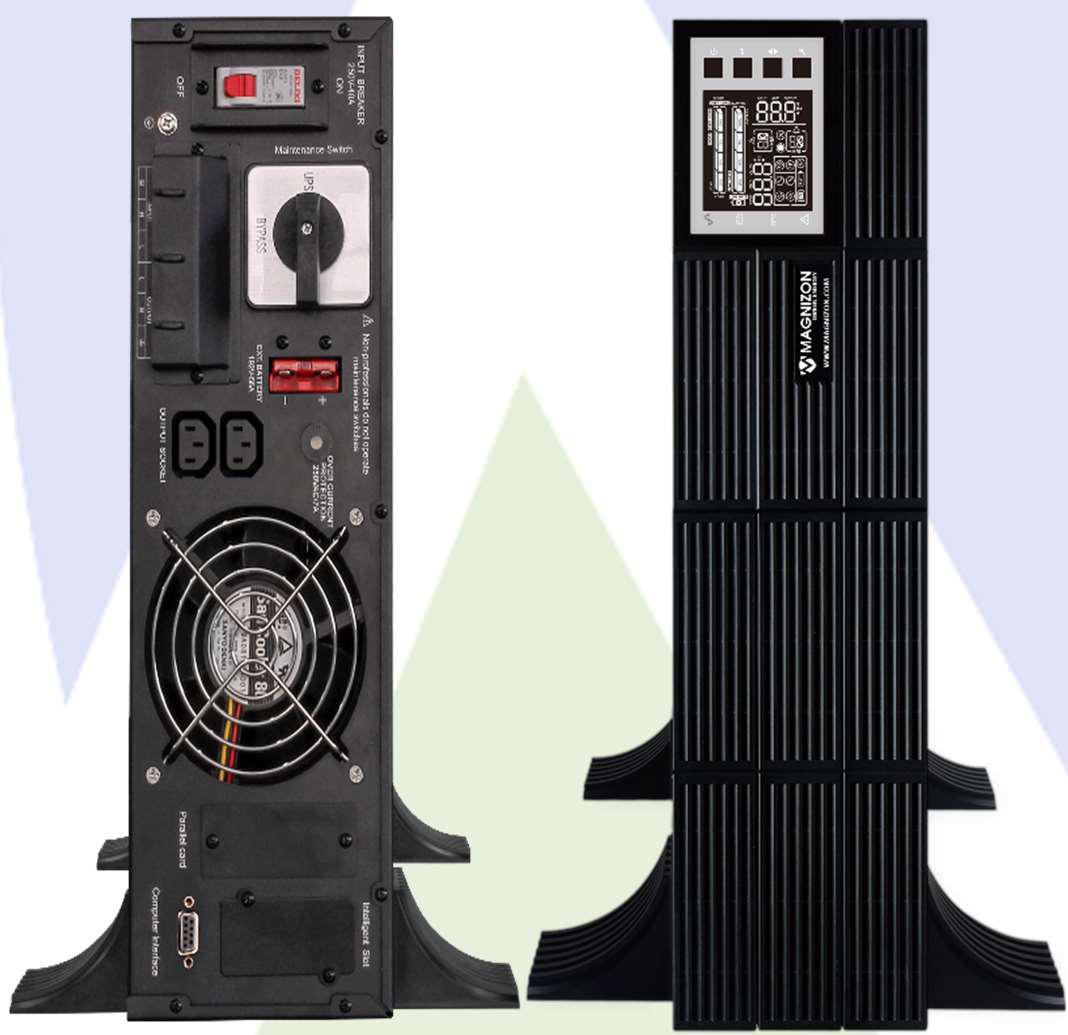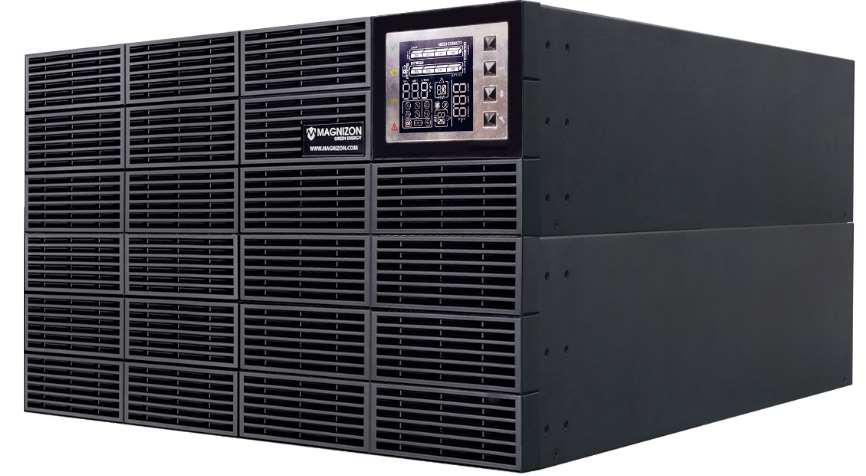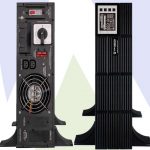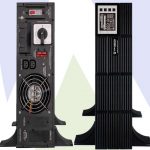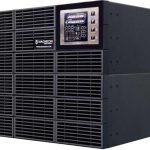 Smart Online double conversion Technology, 1-Ph, 200-240V, 50/60Hz, 10KVA/9KW with Dual bypass modes
Key Features:
Magnizon MU10KRM3U 10kVA/9KW smart on-line, double-conversion UPS system in 6U total rack/tower configuration (3U UPS power module and 3U external battery pack)
Maintains full-time pure sine wave output within 2% of selectable 220/230/240V nominal during brownouts as low 110V and over voltages as high as 300V
Fault tolerant electronic bypass maintains utility output during a variety of UPS fault conditions
Online double conversion technology With advanced DSP control
Wide input voltage range(110~300VAC) can adapt to different power grid environment
DC start (cold start) function
Input PFC filters
Built-in static bypass and manual bypass switches
Parallel port to connect up to 3nos of 10KVA
Input power factor above 0.98 and Output power factor of 0.9
Strong over load capacity
Supporting rack/tower structure, high power density saving space
Built-in protections: Over voltage, Over load, Over current, Battery overcharge, Battery deep discharge protection, battery low voltage protection
LCD display and LED indicator show detailed UPS status and parameters
Friendly man-machine interface, Simple setting Output Voltage, Frequency parameter and Bypass function on the display
Lightning, surge, short -circuit, network/fax/modem surge protection
Smart RS232 communication with monitoring software
Double-conversion operation converts raw input from AC to DC, then resynthesizes output power back to perfect sine wave AC with enhanced protection from harmonic distortion, fast electrical impulses and other hard-to-solve power problems not addressed by other UPS types
Supports 50/60Hz operation for worldwide frequency compatibility
Expandable runtime is supported with optional BP192V9RM3U or any 192V battery DC bus external battery packs
Intelligent battery management system with temperature-compensated charging with advanced 4-stage battery charging algorithm extends battery life
Highly efficient operation in optional economy mode significantly reduces BTU heat output and operating energy costs
Battery independent restart ensures automatic UPS power-up without user interaction after lengthy power outages, even when batteries are expired and require replacement
Rack mount and tower mount kits included for both Battery pack and UPS module
Adjustable telescopic rail kits suits any depth of the rack
LED / LCD display panel rotates for viewing in rackmount or tower configurations
Network-grade AC surge and noise suppression
External battery packs are field replaceable and hot swappable
Description
Reviews (0)
Package Includes:
Description
Magnizon MU10KRM3U 10kVA / 9000 watt Smart online, double-conversion UPS system offers complete power protection for critical applications. True online, double-conversion technology supports the critical loads with zero transfer time(0mSec), suitable for advanced networking applications. Fault-tolerant Static-bypass prevents unexpected service interruptions during UPS overload or internal fault conditions. With built-in manual bypass switch enables hot-swappable replacement of entire UPS power module with zero down time to connected equipment. Elegant LCD display with vast scope of monitoring and setting up of various paraments make UPS tailored for each specific application.
MU10KRM3U , 10KVA 3U power module
BP192V9RM3U, 3U external battery pack
Battery connection cables with connectors
Four post compatible, telescopic adjustable rack rail kit -4 sets (2 for UPS and 2 for battery pack)
Tower stands for upright tower configuration
RS232 cabling and CD
User manual